HOW MUCH FOR YOUR PHOTO SERVICES?
My 2017 photo service start pack, for Italy, wedding only, is 900 euros, 10 hours service, digital service only. Transfer costs excluded (free of charge within Lombardy or Switzerland). For destination wedding fees, the difference is related to transfer expenses. Albums and all other accessories and services are excluded.
MY WEDDING DAY IS IN NOWHERELAND, COULD YOU COME?
I offer a destination wedding service across Europe, with a group of professional colleagues in UK, Portugal and other countries. My contacts on Lombardy lakes including a professional wedding planner and an astonishing location in Annone Brianza, near Lecco, with exclusive services. If you dream a wedding upon Tuscany hills or sunny Sicily, don't worry, we've the solution for you.
DO YOU OFFER OTHER SERVICES?
Yes! We offer a lot of accessories, such as polaroid prints, photoboot, analog services, photoalbums, digital boxes. No limits to fantasy on requests, just ask.
DO YOU HAVE TIME LIMITS, OR PHOTO NUMBER LIMIT, FOR WEDDING DAY?
The great day, i will be with you from the getting ready to the husband gone fishin' in the pool... Normally, my service ends at 20 pm for a morning wedding, or 00 am for an afternoon wedding. But we surely agree for extensions, if you need more time.
HOW MANY PEOPLE ARE IN YOUR TEAM?

Actually, i've a flexible team, that works with me when necessary. Two photographers are with me, alternatively, depending on service tipology, or requests. I'm the first photographer, and don't worry about my presence in your wedding, i'm the only first photographer in my team and i'm in, on every wedding day.
I'M INTERESTED: HOW CAN WE TALK?
Write or call me! A voyager pigeon, a whatsapp or Telegram message, snapchat, facebook, messenger, instagram, skype, smoke signals, an email, a wax tablet... Every method is good for me! We easily organize a first appointment by person or via Skype-Messenger call.
HOW MANY PHOTOS YOU DELIVER?
Actually, my final delivery is about 300 photos, and a draft pdf album, if you're planning to buy a printed product. Doing reportage photography, i shoot a lot of images, and a rigid selection is necessary, before delivering.
DO YOU APPLY A POSTPRODUCTION UPON IMAGES?
Obviously yes. The developing of raw files (and negatives, when i shoot analog), is an essential part of creative process; in my opinion, is the most important moment of my work. For other requests (cloning, cuts, re-editing), we should easily talk after the first deliver.
WHO GIVES PRINT RIGHTS?
The delivered photos are yours. You can easy print all the images you want, i deliver the photos at the maximum resolution and quality available. The raw files remain in my archive.
DO YOU MAKE ALBUMS, PRINTS OR OTHER SIMILAR PRODUCTS?
For photoalbums, since 2016 i'm Celebra partner. I have other album and print providers, for a wide choice.
FAI FOTO IN POSA, FOTO DI GRUPPO, FOTO AI TAVOLI, INSOMMA LE CLASSICHE FOTO MATRIMONIALI?
Le mie foto sono basate sulle sensazioni che raccolgo durante la giornata. I ritratti più classici o le foto ricordo vanno espressamente richieste, ed ovviamente posso scattare qualsiasi tipo di immagine. Le foto ai parenti cari, o a persone speciali, vanno chieste esplicitamente, non potendo conoscere le vostre relazioni familiari.
COULD "UNCLE BOB" TAKE SOME PHOTOS?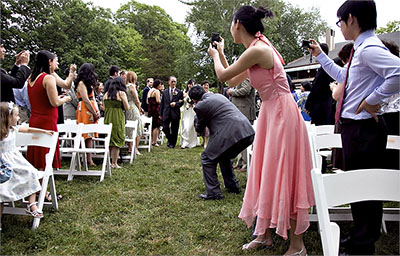 Il vostro matrimonio è un momento unico, e va goduto dalle persone care. Ci sono già io a fare foto, non è necessario, e il rischio - concreto - è che uno dei vostri parenti e amici si metta in mezzo, magari con un enorme Ipad, rovinando una fotografia altrimenti perfetta... Vi chiederò soltanto di fargli sapere (magari basta un appunto sulla partecipazione), che non è il caso di intralciare i miei movimenti, poichè, non facendo pose, devo poter seguire tutto il matrimonio senza ostacoli, o il lavoro non sarà qualitativamente all'altezza. Ovviamente, durante la cerimonia e gli eventuali momenti dedicati ai vostri ritratti, le fotografie fatte dai parenti non sono permesse.
FAI VIDEO? HAI IL DRONE?
Dal 2017 fornisco un servizio di videoclip di matrimonio. Essendo un servizio accessorio, ha un costo inferiore a quello fornito da un videografo appositamente ingaggiato. Se ingaggerete un videomaker, o un operatore per droni abilitato, vi chiederò di mettermi in contatto con loro, per stabilire il metodo di lavoro prima della cerimonia, in modo da non intralciarci a vicenda.
SEI ASSICURATO?
Ho un'assicurazione professionale, per vostra garanzia e sicurezza.
CHE EQUIPAGGIAMENTO USI?
L'attrezzatura non conta. I migliori fotografi traggono il meglio da qualunque fotocamera. Henri Cartier Bresson, uno dei migliori fotografi di tutti i tempi, scattava con una fotocamera in ottone da pochi soldi, se confrontata con le superfotocamere di oggi. In ogni caso (poichè Nikon e Canon, semplicemente, non le producono), utilizzo attrezzatura medioformato digitale e analogica Pentax, e videocamere Sony Alpha per i video.
SEI UN FOTOGRAFO PROFESSIONISTA?
Sì, e questa è la mia partita iva: 03616510131
SEI MEMBRO DI QUALCHE ASSOCIAZIONE FOTOGRAFICA?
Sì, queste: